Donate
Donate? Isn't there allot of money made with a dot com?

Surflook.com gets its revenue from advertising. The advertising revenues from the site for the most part cover the cost of hosting and running the site.
If you would like to help in donating any amount which would go towards R&D, site upgrades and work on making the site work better and have more value for the user it is greatly appreciated. The site has been going strong since around the turn of the century.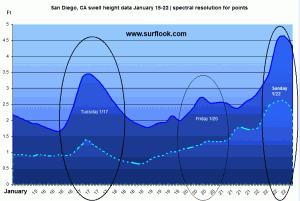 "I have developed a new way of predicting wave heights to within less than 1′ standard deviation for a 9 day period based on what I capture from the data dump of numerous ocean buoys.
Data is massaged in microsoft excel and charted for over a weeks worth of data. My method uses less extrapolation and more data. For now I am working with data and creating graphs for the area along San Diego, Ca coast and analyzing the results. Time permitting I will post and share this data and work on a method of sharing this data with the public."

– James Dalton – – December 2011